Organic Sweet Orange & Patchouli Hand & Body Wash
Organic Sweet Orange & Patchouli Hand & Body Wash
Organic Sweet Orange & Patchouli Hand & Body Wash
view details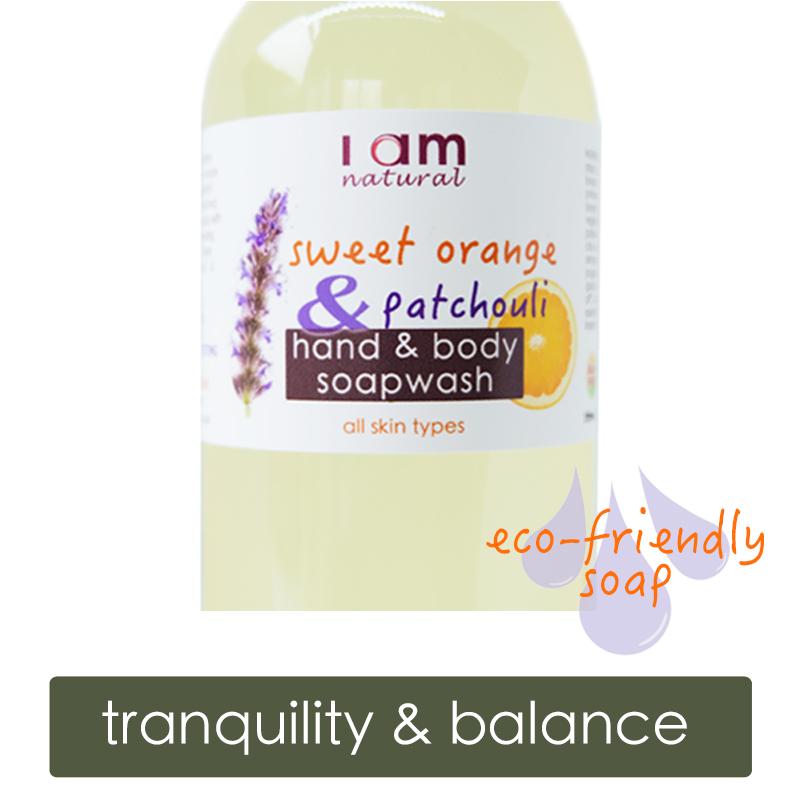 Share the love with your friend
Complete the form below and we'll email your friend about this product
You'll earn 0 reward points with this purchase.
£4.95
Is your dry skin in need of moisture? Do commercial shower gels stress your skin? 
This uplifting stress-busting hand & body wash is a blend of organic sweet orange and patchouli essential oils designed to brighten your complexion, encourage healthy circulation and revitalise your skin! These oils will moisturise & soothe your dry, sensitive or aging skin. You'll love the deep complex aroma of organic patchouli and benefit from its healing abilities on irritated itchy skin.
Sweet orange essential oil boasts a powerfully uplifting scent that immediately reduces stress and tension, and increases feelings of tranquility and balance. Patchouli is also renowned for its' stress busting effect so you can be in no doubt this hand & body wash will give your day an aura of security, positivity and calm.
You'll love this incredibly moisturising body wash with its beautiful lather that's kind to the environment. Made from organic sunflower and coconut oils, use this biodegradable non-toxic liquid castile soap in the shower or bath, or sit it next to your basin for hand washing. It's wonderfully gentle and contains no harsh chemicals. You will enjoy knowing this product is:
Palm oil free
SLS free
Paraben & perfume free
100% vegan & never tested on animals
I have formulated this vegan liquid soap with pure organic essential oils. It contains:
organic sweet orange essential oil: 

Positively lifts your mood and boosts energy levels and alertness.
Gives your skin radiance and clarity.
Vitamin C antioxidants keep your skin looking young and bright.
Antimicrobial properties reduce unwanted blemishes and hormonal acne.
Increases circulation in the skin, boosting skin vibrancy.
Promotes cell growth and collagen synthesis.
Helps to restore your skins suppleness.
Reduces large oily pores and removes excess oil.
Minimises stress and calms your nerves.
Relieves anxiety and reduces depression.
Can alleviate muscle and joint discomfort.

organic patchouli essential oil:

Rejuvenates your complexion and slows sagging skin.
Aids the reduction of fine lines and wrinkles.
Regenerates skin cells, lessening the look of scars or marks, keeping your skin looking young & vibrant.
Detoxes, cleanses and purifies the skin, reducing hormonal acne & spots.
Soothes inflamed, cracked, irritated and sore skin.
Removes excess oiliness in acne-prone hormonal skin.
Naturally deodorises & freshens, particularly feminine hygiene areas.
Antiseptic and antifungal properties effectively treat and protect against infection such as athlete's foot.
Enhances your mood and can increase your libido.
Eases feelings of anger and anxiety, and combats depression.
Reduces stress and feelings of insecurity.
Encourages healthy sleep patterns and reduces insomnia.
Skin type: all types / sensitive / mature skin / dry skin
How to use: Your castile hand & body wash is concentrated so you may want to dilute it a little, although if you're using it in the shower then the water will naturally dilute it on your washcloth. Needless to say, a small dollop goes a long way!
This product is made with love & respect for all living creatures and planet Earth our home. That's why it's vegan.
Ingredients: aqua, potassium oleate (derived from organic sunflower oil), potassium cocoate (derived from organic coconut oil), organic glycerin, potassium citrate, citric acid, citrus sinensis (organic sweet orange essential oil), citrus limon (organic lemon essential oil), pogostemon cablin (organic patchouli essential oil).