Organic Rosemary & Ginger Hand & Body Wash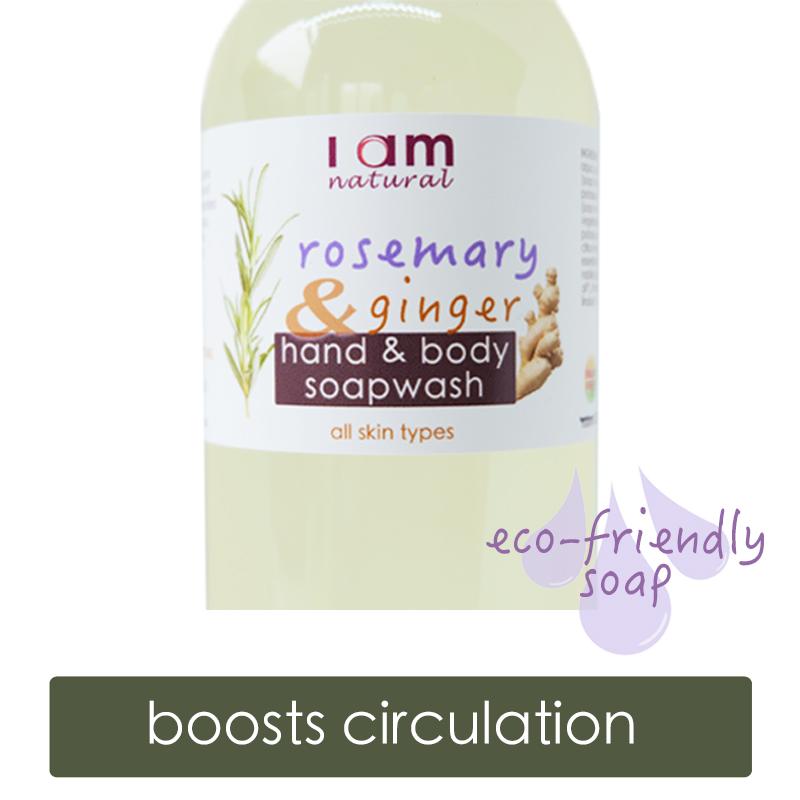 Share the love with your friend
Complete the form below and we'll email your friend about this product
You'll earn 0 reward points with this purchase.
£4.95
This stimulating and warm hand & body wash is designed to improve your circulation, giving energy and warmth to your body and mind. Professionally blended with rosemary & ginger essential oils to give you a natural healthy glow and radiant skin.
It's free from palm oil and created to give you a revitalising & zingy wash that is beneficial to your skin and kind to the environment.
You'll love this intensely deep and warming soap wash that gives a beautiful lather and leaves no greasy residue. Made from organic sunflower and coconut oils, this all-over liquid castile soap can be used in the shower, bath or sit neatly next to your basin for hand washing. It's wonderfully mild and gentle and contains no harsh chemicals. You will enjoy knowing this product is:
Palm oil free
SLS free
Paraben free
Perfume free
100% vegan
Not tested on animals
Non-drying on your skin
Your castile liquid soap is made from natural plant oils so it's incredibly moisturising for dry skin and completely non-toxic and biodegradable.
I have created this liquid soap with proven organic essential oils that will provide you with gentle cleansing and powerful skin rejuvenation. It contains:
organic rosemary essential oil: 

Unblocks clogged skin pores and relieves congestion.
Detoxes your skin and removes dead skin cells and impurities.
Boosts circulation and increases blood flow to the skin giving you radiance and vitality.
Reduces excess oil and tightens skin pores.
It's high levels of antioxidants slow the ageing process and the impact of environmental stress on the skin.
Potent anti-inflammatory & antibacterial properties encourage smooth, healthy skin and helps to heal burns rosacea and eczema.
Refreshes and stimulates the mind, aiding concentration and improving memory and alertness.
Relieves physical aches and pains.
Increases feeling of cheerfulness and wellbeing.

organic ginger essential oil:

Protects your skin against free radicals with super high amounts of antioxidants, defending against premature ageing.
Improves skin elasticity and rejuvenates your complexion.
Improves circulation, detoxifying your skin and allowing it to breathe.
Anti-inflammatory properties reduce blemishes, scars and damaged skin. Brightens and revitalises the tone of your skin.
Relaxes tired achy muscles.
Relieves tension in your body and mind.
Boosts energy levels.
Stimulates the libido and sexual desire.
I make small batches of this liquid soap by hand, so you may find that the colour and scent vary slightly which is the nature of the product.
Skin type: normal/ sluggish / oily / hormonal / ageing skin
How to use: Your castile hand & body wash is concentrated so you may want to dilute it a little, although if you're using it in the shower then the water will naturally dilute it on your washcloth. Needless to say, a small dollop goes a long way!
This product is made with love & respect for all living creatures and planet Earth our home. That's why it's vegan.
Ingredients: aqua, potassium oleate (derived from organic sunflower oil), potassium cocoate (derived from organic coconut oil), organic glycerin, potassium citrate, citric acid, rosmarinus officinalis (organic rosemary essential oil), zingiber oficinale (organic ginger essential oil).