Organic Chamomile & Lemon Hand & Body Wash
Organic Chamomile & Lemon Hand & Body Wash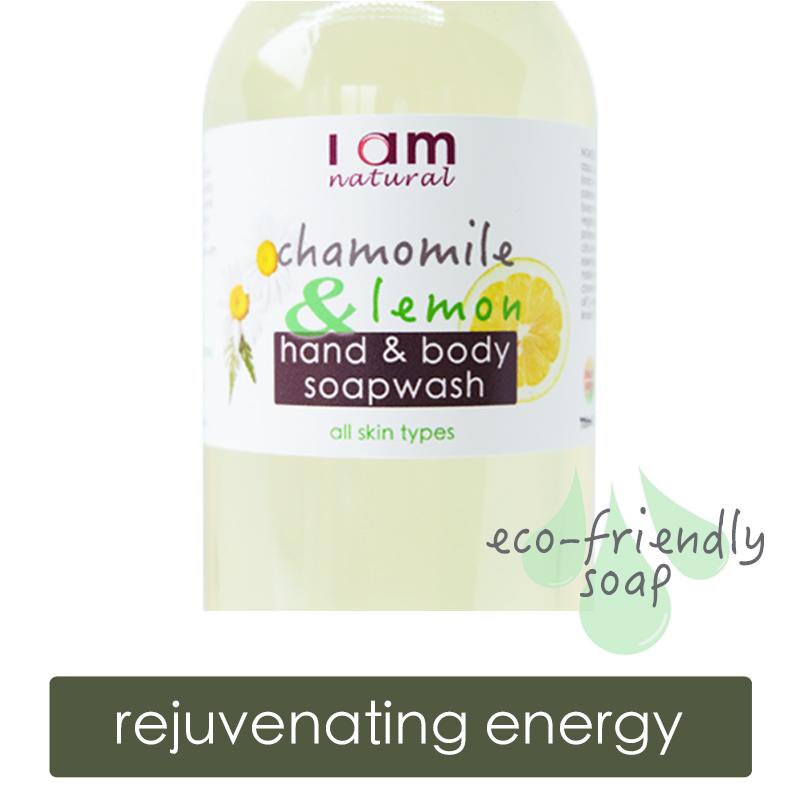 Share the love with your friend
Complete the form below and we'll email your friend about this product
You'll earn 0 reward points with this purchase.
£4.95
This sweet-smelling citrus hand & body wash is thoughtfully blended with the purest organic essential oils of chamomile and lemon to soothe and uplift your mind & body. Both chamomile & lemon essential oils contain antioxidant compounds that reduce cell damage caused by free radicals. So you can look young for longer!
It's free from palm oil and professionally formulated to give you a revitalising & cleansing hand & body wash that is gentle on your skin and kind to the environment.
You'll love this uplifting refreshing body wash that gives a beautiful lather and leaves no greasy residue. Made from organic sunflower and coconut oils, this all-over liquid castile soap can be used in the shower, bath or sit neatly next to your basin for hand washing. It's wonderfully mild and gentle and contains no harsh chemicals. You will enjoy knowing this product is:
Palm oil free
SLS free
Paraben free
Perfume free
100% vegan
Not tested on animals
Non-drying on your skin
Your castile liquid soap is made from natural plant oils so it's incredibly moisturising for dry skin and completely non-toxic and biodegradable.
I have created this liquid soap with time honoured organic essential oils that will provide you with gentle cleansing and powerful skin rejuvenation. It contains:
organic roman chamomile essential oil: 

Anti-inflammatory & antibacterial properties encourage smooth, healthy skin.
Calms skin irritations, redness, rashes, eczema and sore patches.
Clears up hormonal spots and acne.
Boosts your mood and calms your nerves
Promotes relaxation and healthy sleep.
Relieves anxiety and reduces depression.
Soothes menstrual cramps and body aches
Gentle soothing action makes it ideal for sensitive, fragile or mature skin.
Can reduce arthritic pain of the lower back, knees, wrists and fingers.
organic lemon essential oil:

Relaxes the mind and releases stress.
Rejuvenates and boosts energy levels.
Cleanses and purifies the skin, reducing hormonal acne.
Nourishes damaged skin, giving much needed hydration.
Removes dead skin cells, softening your skin.
Antibacterial and antimicrobial healing effect, reducing inflammation, and treating conditions like rosacea.
Removes excess oiliness in the skin.
Clears up rashes and spots.
Stimulates lymphatic drainage, helping your body cleanse itself of toxins.
Being a natural disinfectant it's excellent for feminine hygiene and eradicating fungal infections.
I make small batches of this liquid soap by hand, so you may find that the colour and scent vary slightly which is the nature of the product.
Skin type: all types / sensitive / mature skin / dry skin
How to use: Your castile hand & body wash is concentrated so you may want to dilute it a little, although if you're using it in the shower then the water will naturally dilute it on your washcloth. Needless to say, a small dollop goes a long way!
This product is made with love & respect for all living creatures and planet Earth our home. That's why it's vegan.
Ingredients: aqua, potassium oleate (derived from organic sunflower oil), potassium cocoate (derived from organic coconut oil), organic glycerin, potassium citrate, citric acid, citrus limon (organic lemon essential oil), anthemis nobilis (organic roman chamomile essential oil).