Organic Macadamia Rose Replenishing Hand Cream
Organic Macadamia Rose Replenishing Hand Cream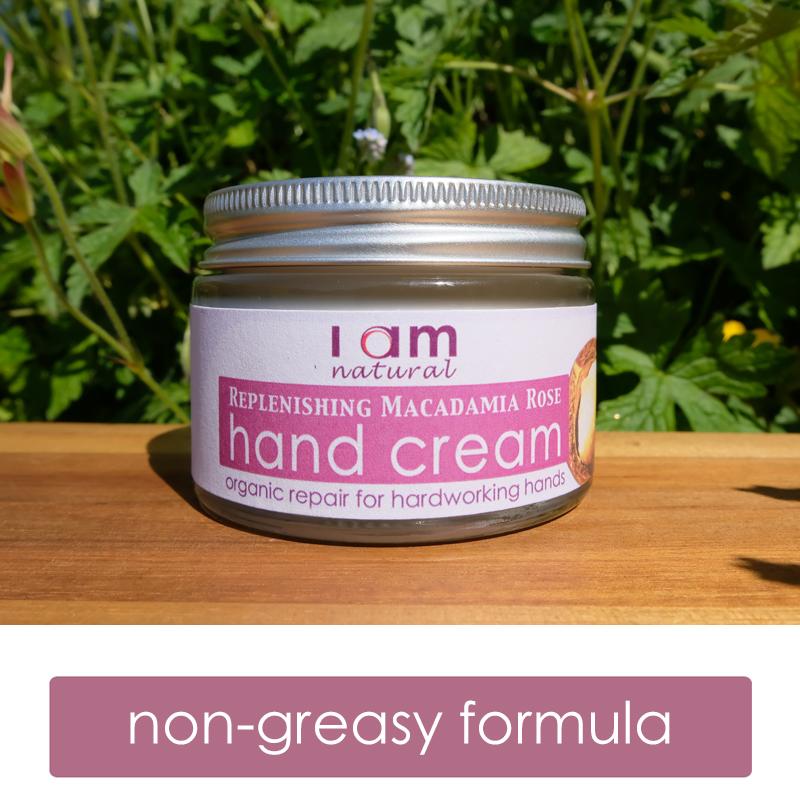 Share the love with your friend
Complete the form below and we'll email your friend about this product
You'll earn 0 reward points with this purchase.
£12.50
As a skincare formulator, mum and amateur gardener I demand a lot from a hand cream. It needs to sink into your skin quickly, smell gorgeous and most importantly, work! I created this tried & treasured Organic Macadamia Rose Replenishing Hand Cream with a powerful restorative formula that makes your dry tired hands feel normal again!
The vitamin rich cream I devised over 10 years ago is now celebrated for its quick absorption, leaving your dry cracked hands immediately moisturised and nourished. The effects are instant! Apply just a small amount of this organic hand cream and you will notice your hands are soothed straightaway; your skin feels less sore, more pliable, remarkably replenished…feeling more like they used to!
However hard you work your hands, whether you're a nurse, gardener, builder, parent, (or all four!) you'll love the active ingredients in this cream:
Organic Macadamia Oil – a light dry oil that naturally maintains moistures levels, especially in dry or maturing skin. Enjoy its unique structure containing omega 7 fatty acid that gives elasticity to your skin. Organic macadamia oil is rapidly absorbed leaving no traces of oiliness; you can continue with your everyday tasks without leaving oily marks on everything you touch!
Organic Shea Butter – feel the softening and hydrating effect of pure unrefined shea butter; and love its healing rejuvenating powers.
Organic rose geranium & myrrh essential oils – love these carefully selected oils for their delightful aroma and adore them for their natural healing ability. Myrrh was used on the battlefields in ancient Greece and is a recognised antibacterial, antifungal and antiseptic essential oil.
Your Organic Macadamia Rose Replenishing Hand Cream will give your hands a new lease of life. I am very proud of this formulation and use it myself every day! – Esther, Founder.
Skin type: normal/mature/dry/cracked.
This product is made with love & respect for all living creatures and planet Earth our home. That's why it's vegan.
Ingredients: aqua (water), macadamia integrifolia (certified organic macadamia oil), sodium stearoyl lactylate and glyceryl stearate (coconut and vegetable emulsifiers), olea europeae (cold pressed certified organic olive oil), butyrospermum parkii (organic & fairtrade shea butter sourced from a co-operative project in Ghana), cetyl alcohol (vegetable derived stabiliser), tocopherol (Vitamin E), benzyl alcohol, salicylic acid, glycerine, sorbic acid (preservative system approved by EcoCert), commiphora myrrha (fairtrade myrrh essential oil sourced from Somalia/Kenya), pelargonium graveolens (certified organic rose geranium essential oil). Your Organic Macadamia Rose Replenishing Hand Cream does not contain paraben preservatives.