Organic Avocado Rose Balancing Face Cream
Organic Avocado Rose Balancing Face Cream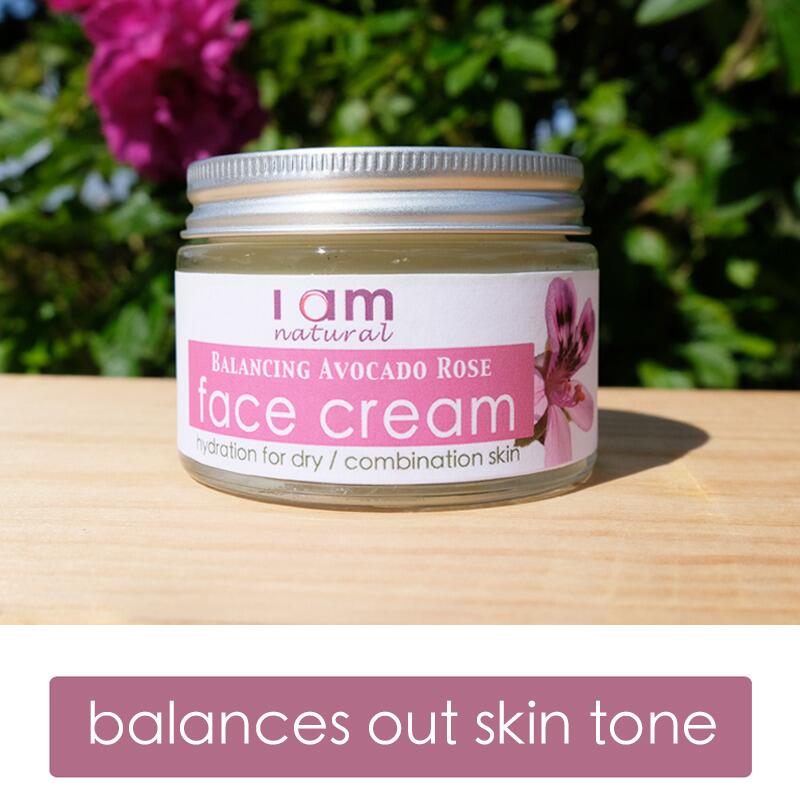 Share the love with your friend
Complete the form below and we'll email your friend about this product
You'll earn 0 reward points with this purchase.
£18.95
This much-loved Organic Avocado Rose Balancing Face Cream is a proven formula for banishing uneven dry or patchy skin.
For over 15 years this vitamin rich cream has nourished and rejuvenated the skin of hundreds of clients, giving them a toned radiant complexion and happy smiles!
If you have uneven skin tone, with oily blemishes or dry patches, this cream is for you. If your skin is sun damaged or inflamed, the benefits of this organic vegan face cream, perfect for perimenopausal skin, will immediately impress you.
You'll love the key ingredients….
Organic Avocado Oil – naturally high in vitamins A, C, D & E, we've steeped our unrefined avocado oil with even more extra vitamin E to create a powerful nutritious healing moisturiser that's out of this world! Enjoy its omega fatty acids and anti-inflammatory properties; clients tell us it helps reduce the frustrations associated with stressful skin conditions, from blemishes to rosacea. Organic avocado oil is rapidly absorbed leaving no traces of oiliness, it can even reduce the appearance of age spots and help with the production of collagen. That's amazing!
Organic Shea Butter – feel the softening and hydrating effect of pure unrefined shea butter; and love its healing rejuvenating powers.
Organic bergamot, rose geranium & tea tree essential oils – love these carefully selected oils for their delightful aroma and appreciate them for their balancing toning properties that will clear your skin of any oily uneven blemishes.
Your Organic Avocado Rose Face Cream will give you radiant skin, whatever your age.
Skin type: perimenopausal/normal/combination/stressed.
This product is made with love & respect for all living creatures and planet Earth our home. That's why it's vegan. 
Ingredients: aqua (water), persea armeniaca (cold pressed certified organic avocado oil), sodium stearoyl lactylate and glyceryl stearate (coconut and vegetable emulsifiers), olea europeae (cold pressed certified organic olive oil), butyrospermum parkii (organic & fairtrade shea butter sourced from a co-operative project in Ghana), cetyl alcohol (vegetable derived stabiliser), tocopherol (Vitamin E), benzyl alcohol, salicylic acid, glycerine, sorbic acid (preservative system approved by EcoCert), pelargonium graveolens (certified organic rose geranium essential oil), citrus bergamia (certified organic & fairtrade bergamot essential oil, bergapten free, sourced from a co-operative community in Italy), melaleuca alternifolia (certified organic tea tree essential oil). Your Organic Avocado Rose Balancing Face Cream does not contain paraben preservatives.
"I originally bought this cream as I suffer from rosacea and it really helped, thank you! I keep buying it now as I just love the aroma!" - Emily.
Send back your jars and get money back!
Your Organic Avocado Face Cream comes in a lovely luxury glass jar. It's easy to put the jar in the recycling stream when it's empty, and even better to cut out the (recycling) middleman completely and send your glass jars back to I Am Natural to be re-used.
Here's how:
1) Keep the packaging your order arrived in. You can re-use this to return your empty jars.
2) Clean your empty jars (just a simple wipe will do, I'll clean and sterlise them). Make sure they are protected with eco-friendly packing and place them in your box. You can use old newspaper, toilet rolls tubes or old Amazon packaging. I'll re-use or compost it, so please no plastic packaging.
3) Email info@iamnatural.co.uk with your name, address and the number of glass jars you are returning. Save your jars and send them altogether to keep your carbon footprint low. You can return your aluminium bottles from your cleansers and toners too at the same time.  
4) I'll email you a FREE postage label and Royal Mail will collect your parcel from your front door. You don't need to print your label, your postie will bring it and attach it to your parcel.

PLUS you'll recieve a 15% voucher code to use with your next order. You can redeem your voucher on any I Am Natural product.
Reducing waste feels good. 
Thank you!