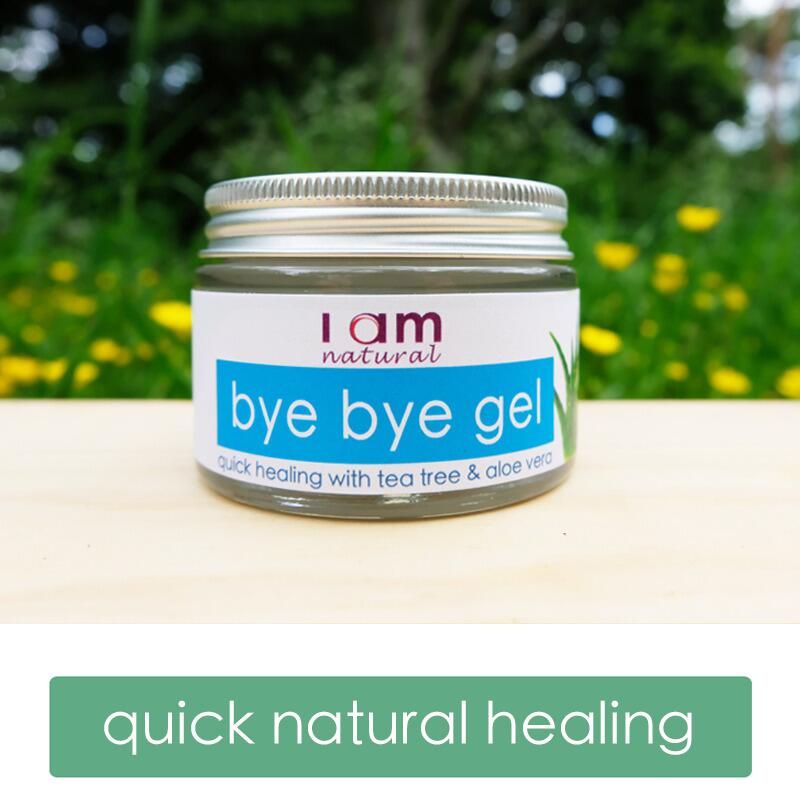 Share the love with your friend
Complete the form below and we'll email your friend about this product
You'll earn 0 reward points with this purchase.
£5.95
Your Organic Bye Bye Gel is a quick stop pot of natural healing!
Do you often get scratches in the garden while you're pruning the roses, or feel the sting of a nettle when walking through an overgrown patch? Maybe you've had a nasty sting from a wasp?
Whatever your ailments, from that annoying ulcer on the side of your mouth, to the sore scratch on your arm where the cat grumpily swiped you, or even the insect bite on your leg that's super itchy, with your Organic Bye Bye Gel you can say bye bye to them all!
Just a little dab anywhere will help your skin heal, you can even apply it to sunburn for extra cooling or soothe shingle blisters. I even put it on my dog's elbow calluses!
What's in it?
Organic Tea Tree Essential Oil – this powerful antibacterial and antifungal essential oil will sort your skin out in no time. It makes your healing gel perfect for treating toenail infections.
Organic Lavender Essential Oil - helps minimise light scarring while providing cleansing antiseptic pain relief from cuts, scratches & burns, including sunburn! This antibacterial oil will soothe and calm irritated areas of skin.
Organic Aloe Vera - you'll love the traditional healing of soothing aloe vera. It's renowned for its ability to prevent inflammation and infection, whilst reviving your skin.
Benzoin Essential Oil – The astringent anti-inflammatory and antiseptic properties of this therapeutic oil are outstanding; accelerating wound healing, treating ulcers, and relieving dry itchy skin complaints such as eczema and rashes.
Your Organic Bye Bye Gel is the perfect home medicine cabinet all in one pot!
NB. The 15ml pot is blue glass, the 50ml is in clear glass.
Your Organic Bye Bye Gel does not contain paraben preservatives.
This product is made with love & respect for all living creatures and planet Earth our home. That's why it's vegan.
Ingredients: aqua (water), aloe barbadensis (organic aloe vera juice), xanthan gum (sugar glucose used to thicken and retain moisture), melaleuca alternifolia (certified organic tea tree essential oil), lavendula angustifolia (certified organic lavender essential oil), styrax tonkinensis (benzoin essential oil).
Send back your jars and get money back!
Your Organic Bye Bye Gel comes in a lovely luxury glass jar. It's easy to put the jar in the recycling stream when it's empty, and even better to cut out the (recycling) middleman completely and send your glass jars back to I Am Natural to be re-used.
Here's how:
1) Keep the packaging your order arrived in. You can re-use this to return your empty jars.
2) Clean your empty jars (just a simple wipe will do, I'll clean and sterlise them). Make sure they are protected with eco-friendly packing and place them in your box. You can use old newspaper, toilet rolls tubes or old Amazon packaging. I'll re-use or compost it, so please no plastic packaging.
3) Email info@iamnatural.co.uk with your name, address and the number of glass jars you are returning. Save your jars and send them altogether to keep your carbon footprint low. You can return your aluminium bottles from your cleansers and toners too at the same time.  
4) I'll email you a FREE postage label and Royal Mail will collect your parcel from your front door. You don't need to print your label, your postie will bring it and attach it to your parcel.

PLUS you'll recieve a 15% voucher code to use with your next order. You can redeem your voucher on any I Am Natural product.
Reducing waste feels good. 
Thank you!