Organic Frankincense Nourishing Face Cream
Organic Frankincense Nourishing Face Cream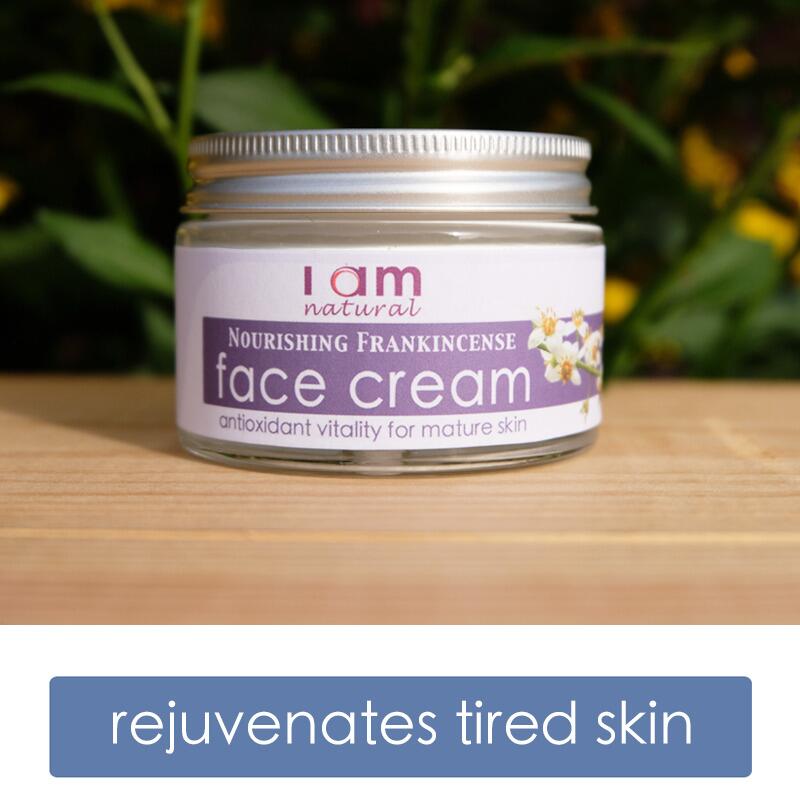 Share the love with your friend
Complete the form below and we'll email your friend about this product
You'll earn 0 reward points with this purchase.
£18.95
Dry maturing skin? Wrinkly areas? Puffy tired eyes? Do you need a rich organic face cream with extra 'omph'? This nourishing cream harnesses the therapeutic powers of organic frankincense oil to:
revive, nourish and moisturise your dry skin
rejuvenate your maturing skin with antioxidants & vitamins
refresh and revitalise your tired skin
reduce puffiness around your eyes
renew your senses and reduce stress
relax and encourage mindfulness
restore youthful energy to your appearance
If you're thinking 'wow that's incredibly impressive, it's no wonder frankincense has been used for thousands of years' then you're right! Organic frankincense is revered across the world for its therapeutic properties and with this Organic Frankincense Face Cream you can treat your skin to rejuvenating frankincense and anti-aging antioxidants everyday. Your skin will glow with youthful vitality!
"I have blended this organic cream using the highest quality fairtrade organic frankincense essential oil containing rich nourishing and moisturising properties that can help improve the appearance of blemishes, wrinkles and scars." – Esther, I Am Natural. 
An outstanding cream that is rich enough to use as a night cream, and light enough to wear under your make up in the day!
You'll also love the additional key ingredients in the Organic Frankincense Face Cream:

Organic Blackcurrant Seed Oil This oil contains the highest level of Vit C than any other fruit. High in omega 3 & 6, GLA and anthocyanins (the purple pigment) that act as an antioxidant against the effects of UV light.

Organic Evening Primrose Oil High in GLA, a rare essential fatty acid, and Omega 6 which helps rehydrate dry skin and eczema conditions.
Organic Sweet Organic Essential Oil An uplifting and energising oil that brightens dull and tired complexions.

Vitamin E Oil An easily absorbed powerful antioxidant that promotes healing & reduces the risk of scar tissue forming.
Allow your timeless beauty to shine, give your skin the gift of frankincense!
Skin type: dry / mature.
Organic Frankincense Nourishing Face Cream  - 55ml in a luxury glass jar with aluminium lid. 
This product is made with love & respect for all living creatures and planet Earth our home. That's why it's vegan.
Ingredients: aqua (water), helianthus anuus (high oleic cold pressed certified organic sunflower oil), butyrospermum parkii (organic & fairtrade shea butter sourced from a co-operative project in Ghana), sodium stearoyl lactylate & glyceryl stearate (coconut & vegetable emulsifier), cetyl alcohol (vegetable stabiliser), oenothera biennis (certified organic evening primrose oil), buswellia sp.(certified organic & fairtrade frankincense essential oil sourced from a community group in Somaliland), ribes nigrum (certified organic blackcurrant seed extract), tocopherol (Vit E), (benzyl alcohol, salicylic acid, glycerine, sorbic acid), citrus sinensis (certified organic sweet orange essential oil), cymbopogon martini (certified organic & fairtrade palmarosa essential oil sourced from a community project in India). Your Organic Frankincense Face Cream does not contain paraben preservatives.
"I love buying from small businesses and actually having a relationship with them. Do you know, I think it's 20 years now since I've been using your beautiful products. I am often complimented on looking young and I'm sure your frankincense creams are the reason!" - Rachel, Hampshire

"Thanks for the two jars of Frankincense Face Cream, not only was delivery so quick but you'd gone to the trouble of making a fresh batch, knowing it'd be a while til I used the second jar. Not only is the service brilliant, but the cream is one of the best I've used!" - Sue, Shropshire
Send back your jars and get money back!
Your Organic Frankincense Face Cream comes in a lovely luxury glass jar. It's easy to put the jar in the recycling stream when it's empty, and even better to cut out the (recycling) middleman completely and send your glass jars back to I Am Natural to be re-used.
Here's how:
1) Keep the packaging your order arrived in. You can re-use this to return your empty jars.
2) Clean your empty jars (just a simple wipe will do, I'll clean and sterlise them). Make sure they are protected with eco-friendly packing and place them in your box. You can use old newspaper, toilet rolls tubes or old Amazon packaging. I'll re-use or compost it, so please no plastic packaging.
3) Email info@iamnatural.co.uk with your name, address and the number of glass jars you are returning. Save your jars and send them altogether to keep your carbon footprint low. You can return your aluminium bottles from your cleansers and toners too at the same time.  
4) I'll email you a FREE postage label and Royal Mail will collect your parcel from your front door. You don't need to print your label, your postie will bring it and attach it to your parcel.

PLUS you'll recieve a 15% voucher code to use with your next order. You can redeem your voucher on any I Am Natural product.
Reducing waste feels good. 
Thank you!