Organic Frankincense Deep Hydration Vitality Boost Balm
Organic Frankincense Deep Hydration Vitality Boost Balm
Organic Frankincense Deep Hydration Vitality Boost Balm
view details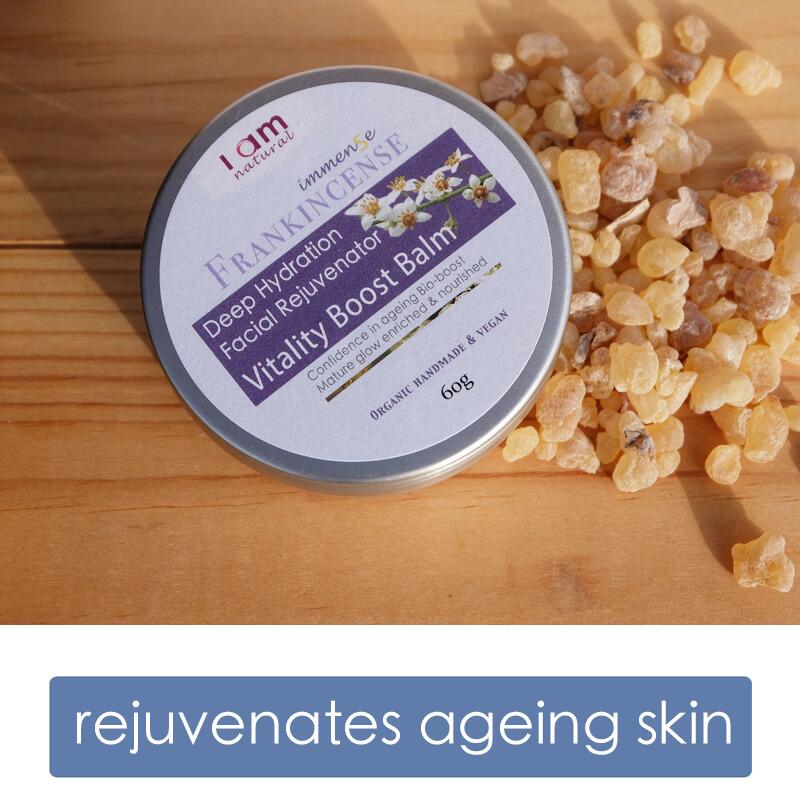 Share the love with your friend
Complete the form below and we'll email your friend about this product
You'll earn 0 reward points with this purchase.
£29.95
You are a unique independently minded woman and with every year you experience, the more comfortable you are in your beautiful skin. Maybe you've noticed that your skin needs a little extra attention and hydration? An extra boost of vitality to support it as it starts to thin, and those fine lines become a little deeper?
Are you wanting to reduce the dark circles or puffy areas around your eyes too?
If you've answer 'yes' to any of these questions then read on. This professionally formulated Deep Hydration Vitality Boost Balm can provide you with the extra nourishment and protection your skin needs.
As we get older our sleep patterns can become shallower or disrupted, and this is reflected in the delicate skin around our eyes. If you have experience of this, you will benefit from an intensive overnight treatment to restore the skin and minimise further inflammation.
Time and age take the elasticity from your skin, making it easier for gravity to turn fine lines into deep wrinkles. I'm afraid it's not possible for any cream or balm to stop this process completely, but you can make sure your skin is in the best possible condition, minimise environmental effects on your skin and prolong your youthful vitality.
This wonderful long-lasting balm contains rich omega fatty acids, antioxidants and phytoestrogens to:
Replace moisture lost with age.

Deeply hydrate skin with intensive nutrients.

Rejuvenate & nourish dry areas of skin.

Enrich skin with healthy vitamins and antioxidants.

Reduce dark circles under the eyes, inflammation and puffiness.

Refresh & revitalise tired skin.

Protect from environmental stressors.

Refine natural appearance.

Reduce stress and encourage better sleep.

Uplift and brighten dull and tired complexions.

Boost natural skin tone – giving glowing vitality!
You will appreciate these organic plant ingredients:
Frankincense oils – my secret blend of three frankincense essential oils provide your skin with the most effective rejuvenating and anti-aging antioxidants available. These oils have been revered for thousands of years for their ability to nourish the skin, improving the appearance of blemishes, scars and wrinkles.  

Macadamia oil – a light dry oil that naturally maintains moistures levels, especially in dry or maturing skin. Enjoy its unique structure containing omega 7 fatty acid that gives elasticity to your skin, promoting softness and suppleness. Your natural skin moisture levels are maintained to prevent further dehydration, helping to prevent wrinkles. Organic macadamia oil is rapidly absorbed leaving no traces of oiliness.


Apricot oil - a natural anti-inflammatory high in vitamins A, B1, B2, B6, B17 and E. Helps retain moisture, eliminating dry patches of skin and relieving rosacea, psoriasis and eczema. It's packed with antioxidants, working to reduce premature ageing and fine lines. This oil will tighten and tone, reducing the appearance of age spots and preventing the build-up of sebum in the glands, preventing oily patches. 

Blackcurrant seed extract - This oil contains the highest level of Vit C than any other fruit. High in omega 3 & 6, GLA and anthocyanins (the purple pigment) that act as an antioxidant against the effects of UV light.

Cocoa & shea butter - feel the softening and healing effect of these two emollients; both have the remarkable ability to rejuvenate skin, treating scars, stretch marks, eczema, dry skin and pigmentation.
Allow your timeless beauty to shine, give your skin the gift of frankincense!
Made with love & respect for all living creatures and planet Earth our home. That's why it's vegan and PALM OIL FREE.
Helianthus anuus (sunflower oil*), theobroma cacao (cocoa butter*), butyrospermum parkii (shea butter*), boswellia serrata, boswellia carterii, boswellia neglecta (frankincense essential oils*), macadamia tetraphylla (macadamia oil*), prunus armeniaca (apricot oil*), ribes nigrum (blackcurrant seed extract*), tocopherol (Vit E), citrus sinensis (sweet orange essential oil*), cymbopogon martini (palmarosa essential oil*), geraniol*, limonene*.
How to use: cleanse your skin at bedtime as usual, then using your fingertips apply small amounts of the balm to your face in gentle circular motions. Do not over apply. This balm is concentrated. Your skin will absorb the nourishing oils slowly while you are sleeping.