Organic Cocoa Butter & Orange Body Balm Gift Box
Organic Cocoa Butter & Orange Body Balm Gift Box
Organic Cocoa Butter & Orange Body Balm Gift Box
view details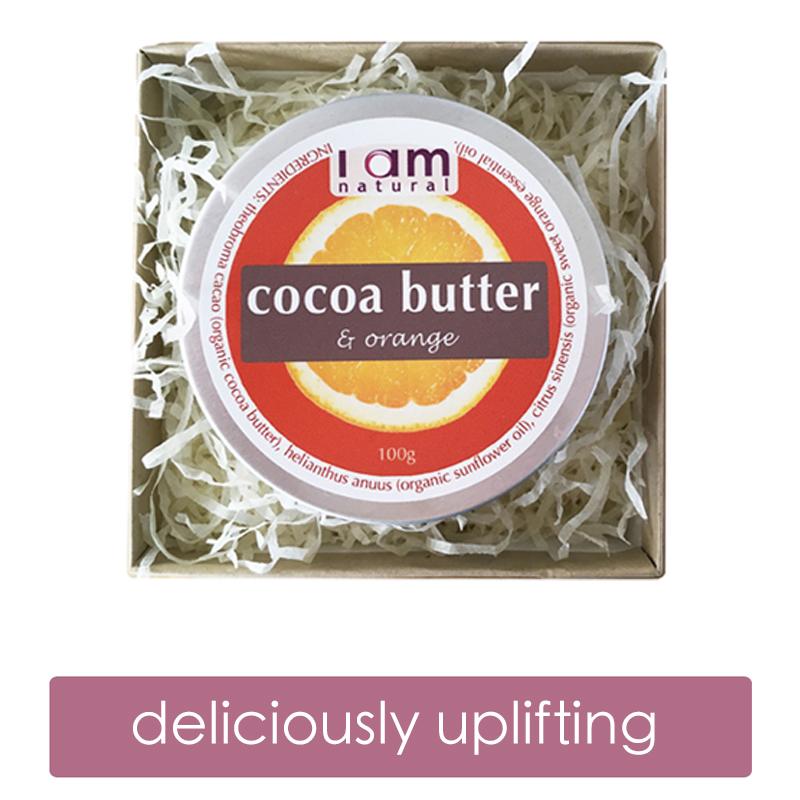 Share the love with your friend
Complete the form below and we'll email your friend about this product
You'll earn 0 reward points with this purchase.
£15.65
Formulated to give dry and mature skin a luxurious dose of high intensity moisturising, you'll find this organic body balm absorbs quickly and gives your skin a healthy shiny glow!
Formulator and founder Esther says: I've blended three simple yet powerful natural ingredients together to create a superbly unique body moisturiser that will condition and enhance your skin.
My goal when creating this remarkable product was to give you a gentle body balm containing just a few ingredients to show how you really don't need complicated concoctions to achieve superior nourishment for your dry skin. And it had to have an aroma to die for.
My clients tell me they love it because this 100% organic body moisturiser not only smells amazing, it smells good enough to eat! In fact, it's totally safe to eat, though it's pretty high in calories so best use it on your skin instead!
"I love how the smell reminds me of Terry's Chocolate Orange!"
Your deliciously organic body balm will condition your skin with vitamins A, B & C, giving total radiance & shine!
You'll love what the key ingredients do for your skin:
Organic Cocoa Butter – a powerful antioxidant moisturiser that will heal, rehydrate and rejuvenate your dry dull skin. It's incredibly effective on rough areas such as elbows, knees and ankles and can be used to soothe burnt skin. Your skin will immediately feel smooth and supple!
Organic Sunflower Oil - naturally high in Vitamin E and anti-inflammatory omega fatty acids that will nourish and enhance your skin. This soothing oil will protect your dry skin by trapping moisture so that your skin stays hydrated for longer.
Organic Sweet Orange Essential Oil – an uplifting brightening oil that will give your skin radiance and clarity. Not to mention it will lift your spirits instantly!
Skin type: normal / dry / dull / tired/ mature.
This product is made with love & respect for all living creatures and planet Earth our home. That's why it's vegan.
Ingredients: theobroma cacao (certified organic cocoa butter),helianthus annus (certified cold pressed organic sunflower oil- high in natural Vitamin E), citrus sinensis (certified organic sweet orange essential oil). Your organic body balms do not contain paraben preservatives.
"I love treating my legs to this cocoa butter when I'm fresh out of the bath. I can feel my dry skin absorbing the nutrients. It feels silky smooth and hydrated again."
Use anywhere on your body. Use lightly on your face. Allow a few minutes after applying before dressing to ensure the ingredients are fully absorbed.