8 reasons to love rosehip oil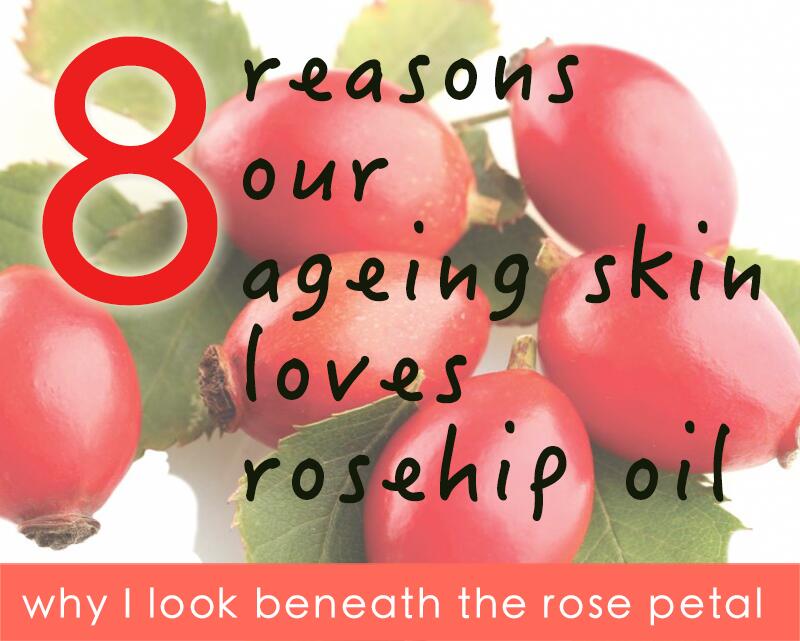 During February we celebrate St. Valentines with roses, the symbol of love, and many people think of the silky-smooth petals, or the thousands of kilos of petals needed to make the highly valuable rose essential oil.
The rose is traditionally associated with Venus, the Goddess of Love and Beauty, and the goddess is certainly still alive today as rose essential oil is used in 98% of women's fragrances at the perfume counter. French or Moroccan rose oil even has the reputation for being an aphrodisiac.
I fully intended to write this blog post about rose, with its intriguing properties and valuable benefits that rose essential oil has for skin. But then my attention turned to something else.
Let's look beneath the rose petals, and I'll share the real reason why I love this symbol of love.
Have you guessed? I love roses for their rosehips!
Think about the rosehips nestled beneath the petals, full of seeds, ready to give new life. You'll notice them growing once the velvety petals have fallen off in autumn.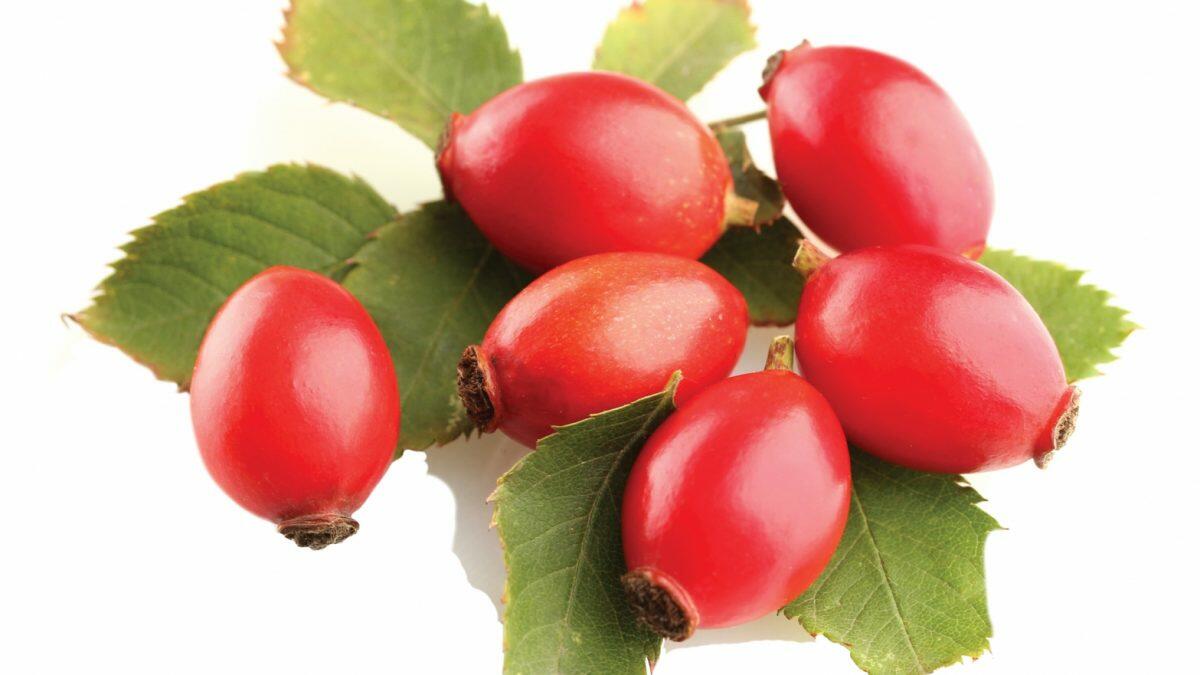 Rosehips are amber/red berry like fruits, harvested in autumn from the wild rose bush and are completely edible, packed full of healthy nutrients.
Rosehip oil (rosa canina) is cold pressed from the fruits, bearing an amber-red oil rich in Vitamin A (tretinoin), Vitamin C & E, omega 3&6 essential fatty acids and antioxidants.
These properties help enable cell regeneration, the formation of collagen and neutralise free radicals.
Famed for improving hydration levels in the skin, soothing skin tone and repairing and 'plumping' skin.
This clever oil reduces wrinkles, boosts collagen and repairs flagging skin. Not surprisingly, rosehip oil is a wise choice in ageing skincare treatments!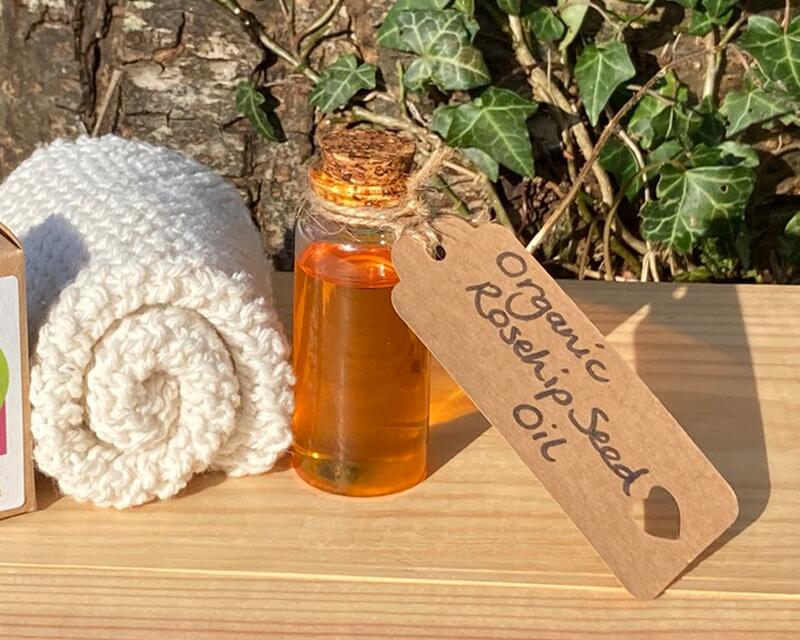 8 ways rosehips can help YOUR ageing skin:
1) Superior skin hydration
Hydration is essential for healthy, glowing skin. If you suffer from dry skin or rosacea you know how important the right skincare is. Non-greasy rosehip oil is easily absorbed and can be applied directly to your skin as an emollient to lock in deep moisture. It will soften your skin while reducing discomfort, redness, irritation and the visible signs of ageing.
2) Plumps up your skin
Avoid toxic injections of botox, you can rejuvenate your ageing skin with rosehip oil! Rosehip oil is very rich in polyunsaturated fats (EFAs) and vitamin C. Vitamin C is crucial in the development of collagen – the tissue which gives your ­­skin its firmness. Studies have shown that only a small amount of vitamin C from your diet reaches your skin but applying vitamin C to your skin is twenty times more effective than taking it orally.
3) Better skin elasticity
As we age we produce less collagen, sob, but along with Vitamin C, rosehip oil has another helping hand. The edible 'seeds' of rosehips are unique as they contain a form of Vitamin A (tretinoin) that supports the development of skin elasticity. This Vitamin A stimulates, builds and replenishes collagen and supports elastin (responsible for giving skin its elasticity).
4) Protects your skin from age spots
Over time, the UV rays of the sun damage your skin. You may notice age spots on your face and hands. Powerful antioxidants in rosehip oil, such as vitamin C & E, neutralise the free radicals that allow sun damage. Rosehips' super unique Vitamin A and essential fatty acids improve your skin-tone and pigmentation, boosting your skin's overall radiance and youthful glow.
5) Slows wrinkles
Rosehips are packed, and I mean packed, with Vitamin C & E, omega 3 & 6 essential fatty acids and antioxidants, effectively enabling cell regeneration and the formation of collagen. These ingredients will also help protect your skin from damage at a cellular level, slowing the appearance of wrinkles. Say hello to a more youthful looking you!
6) Soothes and repairs your skin
Essential fatty acids (EFAs) are called 'essential' because they are vital to health, yet the body is unable to manufacture them. Not to worry, rosehips to the rescue! Rosehip oil is high in EFAs, particularly omega 3 & 6 that aid in cell regeneration and vitamin absorption. Increasing omega oils into the body, both orally and topically, is particularly beneficial for treating psoriasis and eczema. Rosehip oil can give your dry stressed skin a protective barrier and smooth out flakiness.
7) Prevents and reduces scars
The amazing ability of rosehip oil to encourage cell regeneration has remarkable benefits for a whole range of frustrating skin issues, such as acne scars, pits, stretch marks and burns (including sunburn). Applying rosehip oil directly to these areas will noticeably reduce the appearance of these scars.
8) Tighten your turkey neck!
Ok it's not the most flattering term for wrinkled sagging skin on your neck, and I don't mean to offend the handsome turkey, but it's one area that is particularly bothersome as we age. It happens because the neck muscles begin to weaken and the skin is gradually losing elasticity, giving a 'jowly' appearance around the chin and jawline too. However, as you know from reading this blog, rosehip oil is your friend and can help. Its Vitamin C and Vitamin A content will boost collagen and elastin production, firming up your skin and reviving your confidence!
I don't know about you but I'm totally in love with rosehip oil!
I loved sharing '8 reasons your ageing skin loves rosehip" with you. Your skin can enjoy rosehip oil in the I Am Natural perimenopausal skincare range: Organic Avocado Rose Overnight Repair Beauty Balm.
If you enjoyed this article and would like to be kept in the know about future blogs and special offers, subscribe to the I Am Natural newsletter.
Read more about natural vegan skincare in the I Am Natural Vegan Beauty Journal.