Organic Avocado Rose Overnight Repair Beauty Balm
Organic Avocado Rose Overnight Repair Beauty Balm
Organic Avocado Rose Overnight Repair Beauty Balm
view details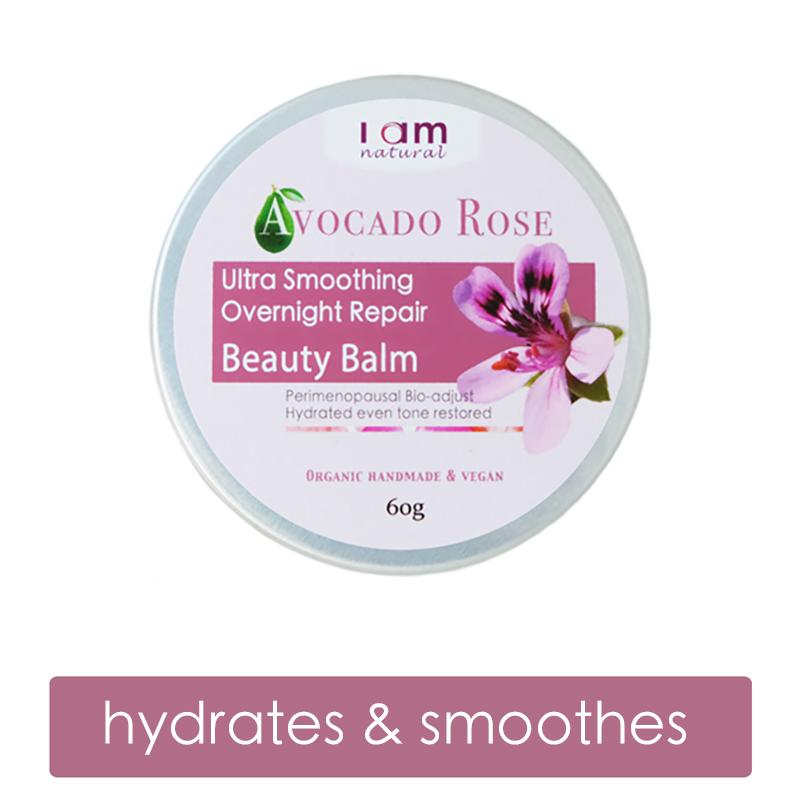 Share the love with your friend
Complete the form below and we'll email your friend about this product
You'll earn 0 reward points with this purchase.
£28.00
Are you in your 40's or 50's? Is your skin dry yet oily? Do you have unexplained blemishes? Is your skin itchy? Have you noticed 'age' spots or lost your glowing appearance?
During your perimenopause your skin is under a lot of stress as your body undergoes hormonal change. You'll experience a drop in oestrogen and gradual loss of elasticity and plumpness. Your skin can be dry and itchy. Or oily. It can be sensitive and red.
Don't neglect your skin during this time! Make sure your skin is cared for with the new Overnight Repair Beauty Balm, professionally designed to support this stage in your life with concentrated botanical adaptogens that create calm and balance when you need it the most. Active ingredients adjust to give your skin what it needs at the right time. Your balm will be with you all the way to the menopause!
This long-lasting balm rich in phytoestrogens will provide your skin with:
Collagen boosting vitamins & antioxidants.
Long lasting moisturise & hydration.
Calm & soothed skin – irritated areas quickly heal.
Smoother & highly nourished skin – rough patches vanish!
Clear even skin tone and reduced blemishes – no more hormonal 'T' zone.
Protection from skin stressors and conditions like rosacea.
Natural radiance and lift!
Your skin will adore these dynamic ingredients:
Avocado oil - naturally high in vitamins A, C, D & E, feeding your skin with powerful healing nutrients. Enjoy its omega fatty acids with anti-inflammatory properties that reduce the frustrations associated with stressful skin conditions, from blemishes to rosacea. This oil is rapidly absorbed leaving no traces of oiliness, it can even reduce the appearance of age spots and help with the production of collagen.
Rosehip oil – these edible 'seeds' are rich in Vitamin A (tretinoin), Vitamin C & E, omega 3&6 essential fatty acids and antioxidants, effectively enabling cell regeneration, the formation of collagen and neutralising free radicals. Famed for improving hydration levels in the skin, soothing skin tone and repairing and 'plumping' skin. Its unique Vitamin A content supports the development of skin elasticity and protects the skin from environmental damage. This clever oil reduces wrinkles, boosts collagen and repairs flagging skin!
Apricot oil – a natural anti-inflammatory high in vitamins A, B1, B2, B6, B17 and E. Helps retain moisture, eliminating dry patches of skin and relieving rosacea, psoriasis and eczema. It's packed with antioxidants, working to reduce premature ageing and fine lines. This oil will tighten and tone, reducing the appearance of age spots and preventing the build-up of sebum in the glands, preventing oily patches.
Rose geranium, bergamot and tea tree oil blend: you'll adore these essential oils for their delightful aroma and love them for their toning properties that will clear your skin of any oily uneven blemishes.
Cocoa butter & shea butter - feel the softening and healing effect of these two emollients; both have the remarkable ability to rejuvenate skin, treating scars, stretch marks, eczema, dry skin and pigmentation.
How to use: cleanse your skin at bedtime as usual, then using your fingertips apply small amounts of the balm to your face in gentle circular motions. Do not over apply. This balm is concentrated. Your skin will absorb the nourishing oils slowly while you are sleeping.
Made with love & respect for all living creatures and planet Earth our home. That's why it's vegan and PALM OIL FREE.
Ingredients: aqua (water), persea armeniaca (certified organic avocado oil),cannabis sativa (certfied organic hemp oil), olea europea (certified organic olive oil) sodium stearoyl lactylate and glyceryl stearate (vegetable emulsifiers), cetyl alcohol (from coconut), benzyl alcohol, salicylic acid, glycerine, sorbic acid (preservative system approved by EcoCert), citrus sinensis (certified organic sweet orange essential oil), rosmarinus officinalis (certified organic & fairtrade rosemary essential oil sourced from a community project in Morocco), melaleuca alternifolia (certified organic tea tree essential oil), pelargonium graveolens (certified organic rose geranium essential oil), theobroma cacao (certified organic cocoa butter). Your Organic Avocado Rose Beauty Balm does not contain paraben preservatives.
"The texture is lovely & smooth without feeling greasy. The dryness is clearing & my skin feels much smoother."
Hayley, I Am Natural client.
"The balm is gorgeous and it's concentrated so a little goes a long way. It's last for ages!"
Claire, I Am Natural client